This is a rough-hewn collection of the kind of knockabout songs that seamen have always carried along with them at work and pleasure, at sea and on shore. The material is splashed together like a shanghaied checkerboard crew, and so is the recording, the first fifteen tracks a spontaneous accident in Liverpool which took just three days - with myself as skipper, mate and crew and engineer Bob Buckle as supercargo. The rest were recorded in Poland, in Warsaw and Gdansk (except for two in Liverpool, with Zawisza Czarny's performing crew), in partnership with Marek Siurawski, the original main spinner of the Polish shanty movement, still evolving and in full swing today… -- J.T.
1. Marco Polo tells how legendary clipper ship captain "Bully" Forbes kept his crew from jumping ship. Written by Hugh Jones of the Liverpool Spinners.
2. Strike The Bell started life as the 1865 song hit "Ring The Bell, Watchman" by Henry Clay Work, but sailors soon found better words to put to the tune.
3. The Topman And The Afterguard, also called the "Sailor's Prayer," dates back to Lord Nelson's time...
4. The Bully Song — Songwriter Charles Trevathan heard this tune sung by a boatman on the Ohio River in 1896. He set new lyrics to it and it became the pop hit of that year, featured by songstress May Irwin in the play "The Wid­ow Jones." The first popular ragtime song, it made its way down to the sea and turns up in the journal of U.S. Naval Midshipman C.W. Cole aboard the training ship U.S.S. Monongahela in the summer of that year.
5. The Lass That Loves A Sailor — British songwriter Charles Dibdin's last effort before his death in 1814, this song lived on in songsters and broadside parodies right up through the War Between The States and finally lodged it­self as the subtitle to Gilbert and Sullivan's H.M.S. Pinafore.
6. Essequibo River — A cargo-moving Caribbean shanty collected by Stan Hugill from his West Indian friend Harding The Barbadian Barbarian.
7. Row On — A pensive lament found by Gail Huntington in an 1846 journal from the New Bedford Whaler Three Brothers. Tune set by Tim Laycock.
8. Shineo — A shanty, says Stan Hugill, sung aboard the Akbar in the 1890's.
9. The Sailor's Farewell/Nancy Dawson/Rogue's March — A parting tune from Northumbria, originally "The Gypsy's Farewell," mated with the tune which announced the grog, followed by the call to witness punishment.
10. The Hog Eye Man — "Hogeyes" were canal barges used to supply the Cali­fornia Gold Rush railroad workers ("navvies") of the period.
11. Bounding Billows — Written by English stage star Mary Derby July 20, 1792, between Dover and Calais. The tragic and unlikely story of the author of this beautiful, plaintive lament can be found here.
12. Blood Red Roses — This well-known halyard shanty may refer to British "redcoat" soldiers or perhaps to those other "Blood Red Roses," the nickname for the blood-drenched leaders of the French Revolution.
13. Bully In The Alley — "Shinbone Alley" was the main street of Bermuda's sailortown, and its bulliest time was during the War Between The States when St. George's was a blockade running port. This likely dates from then.
14. The Cumberland's Crew — The story of the 1862 sinking of the frigate U.S.S. Cumberland by the Confederate ironclad C.S.S. Virginia (formerly the U.S.S. Merrimac), the day before the famous battle with the U.S.S. Monitor. The Cumberland never had a chance, but went down with heroic gallantry, her flag nailed to the mast, her crew slaughtered.
15. Riverboat Gamblers — A haunting Mississippi riverboat song to a tune sim­ilar to "Walking Boss." I learned it fro mHoly Modal Rounders Steve Weber and Peter Stampfel in 1964 — where they got it I haven't a clue.
...the Mermaid!
A sailor too long at sea eventually finds himself chasing mermaids, however imaginary. That's particularly true if he's landed in Warsaw, whose defending deity is a mermaid, and a well-armed one at that.
16. Syrenka Warszawska – This heroic, finny creature guards Warsaw to this day. Read about her here… and lots more about her and her ilk here…w/m by JT, Polish by Malgorzata Szyszkowska…
17. Here's A Health To The Outward Bound – This, including tune, appeared in a typed 1913 newsletter of a group of retired New York longshoremen called The Wharf Rats - they met regularly in a pub in South Street to reminisce, drink and sing. It was originally a poem by Caroline Norton (Lady Stirling-Maxwell, 1808-1887) written and set to music as a three-part glee in 1835 and referenced shortly thereafter by none other than Captain Frederick Marryat in his 1837 "Diary In America." It was also set to music by Alexander Ball and sung by John Braham in 1847, but this tune is not that one. The Wharf Rats' version is much simpler and more elegant, although I don't know its origin.
18. The Boatman Dance – By the author of "Dixie," Daniel Decatur Emmett, founder of the Virginia Minstrels, the originators of the minstrel show in 1843, the first worldwide hit music style brewed in the U.S.A.
19. I's The B'y – Newfoundland classic, with Zawisza Czarny crew…
20. Rose Of Alabama – An early minstrel song, 1846, words by S. S. Steele. Sung by A. F. Winnemore & His Band of Serenaders, music anonymous. Popular well into the War Between The States. And, of course, in The Outlaw Josie Wales…
21. Boston Harbor – Popular capstan shanty, just sooo salty…
22. Granisczna Grumble/Łomianki Waltz – Free reed and fiddle tunes by JT.
23. Run, Come See – Bahamian Blind Blake favorite, with Zawisza Czarny crew…
24. Maggie's Toast – The traditional naval toasts for each day of the week, strung together, w/m by JT, Polish translation by Maggie herself…
25. Rolling Home – Written by The London Times New York correspondent and songwriter Charles Mackay in 1858 while homeward bound aboard the Cunard liner Europa, this later became a popular capstan shanty. Polish verses and chorus translated by Anna Kinecka.
John Townley — Vocals, concertina, fiddle, flute, pennywhistle, guitar, banjo, tambourine, bones. Marek Siurawski -- Vocals, concertina, piano. Zawisza Czarny crew -- fiddles, chorus. ©1991-2006 by Maritime Music International.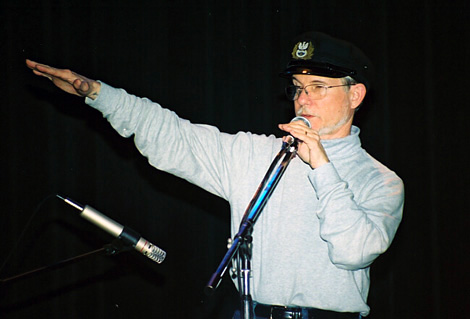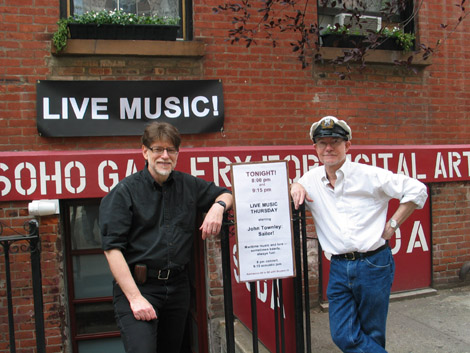 With concert promoter Steve Rosenhaus (l) in Soho, NYC, 2010
(photo: Susan Townley)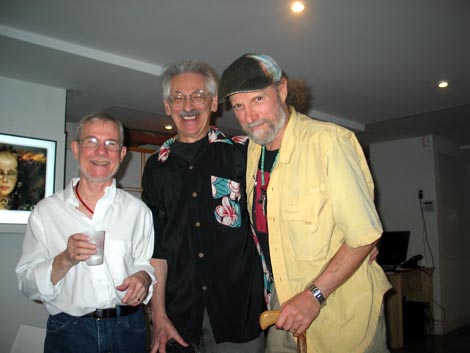 With Peter Stampfel (Holy Modal Rounders) and Gene Rosenthal (Adelphi Records) in Soho, NYC, 2010 (photo: Susan Townley)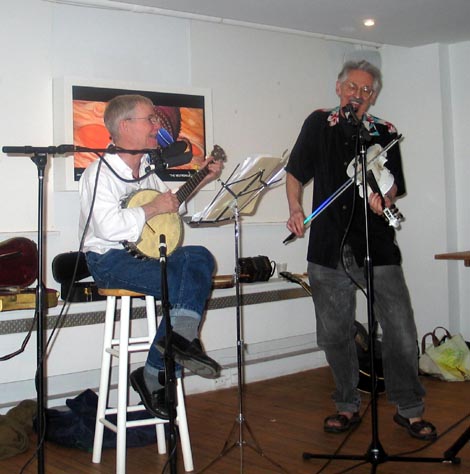 With Peter Stampfel in Soho, NYC, 2010, above (photo: Susan Townley)
Bass & deep snare foot drum setup, Greene Vinyl Studio, 2014, right --->>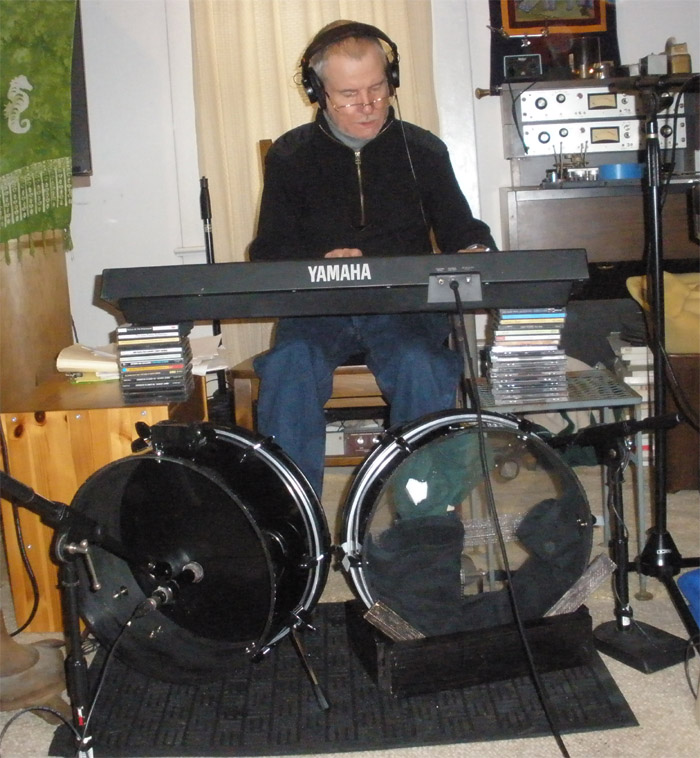 New album underway!
As a result of the imminent re-release of
The Family of Apostolic
double album, a new set of equally-eclectic recordings is underway at Greene Vinyl Studios,...all for release next year (2016)...stay tuned!