...how to order your Viking Sun Stone pendant...
Instead of filling in a form, you just email us what you'd like, it's that simple!
Here's what we've got, and how to do it:
The variety of Sun stones already wrapped depends on what's on hand, but they tend to come in three different rombus shapes, and three different sizes:
Shapes:
Fat – these are as deep as they are wide and high, so they stick out a bit and bounce a little, but catch the light from more angles as they rotate.
Flat – these lie nicely on the chest and blend in better with other pieces, a more quiet effect.
Long – these are more like little pillars, which sit at a jaunty angle, not so bilaterally symmetrical.
Sizes:
Small – about 25-30mm along the long, vertical axis, not including wire loop
Medium – about 30-35mm along the long, vertical axis, not including wire loop
Large – about 35-40+mm along the long, vertical axis, not including wire loop
I at 5'3" (and most others) wear a small stone, while seriously taller and broader folks do better with a medium. A large is a real chunk, kind of ceremonial and quite intense, a serious navigator and conversation piece.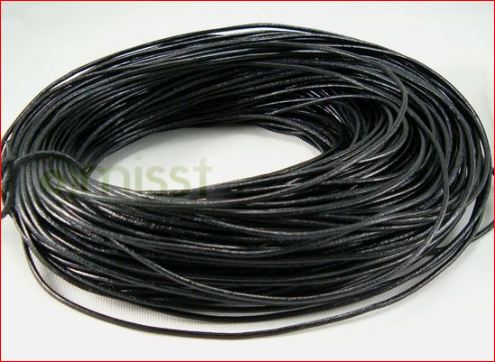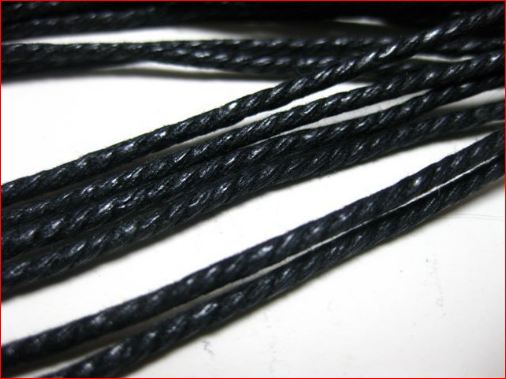 2 mm polished leather cord 3 mm waxed cotton cord
Neck Cord:
Each comes on a sliding adjustable cord (2mm black, round polished leather or 3mm black waxed cotton which looks like rope; you choose), and is packed with an informative sheet telling the story of the Sun stone including links to learn more about it, all inside a little ziplock bag. All in all, an inspiring personal talisman and a great little gift for those you wish to inspire, totally unique.
Prices:
Small: $19.95 Medium: $24.95 Large: $29.95
Shipping:
Shipping/handling: $4.95 (one charge only, no matter how many you order together), slightly higher outside USA.
To order:
Email us (at astrococktail@gmail.com) the 1) size and 2) shape and 3) cord you'd like (and how many you want), along with your second and third choices (if you have any, not required). If we have it, we'll just bill your email address via PayPal and, upon payment, mail it to you first class mail, USPS. If we don't have the one you chose, we'll let you know what we do have and you can re-decide before we bill you, or just cancel.
[Sample order letter, for one, might read: "I'd like one small, fat stone on leather cord; second choice large. flat stone on waxed cotton cord; third choice medium, long stone on leather cord). My email is: youremailname@yourmail.com. Please send it to: "my snail mail address here"]
This way you can get any number and any combination you want, and if for some reason it's not clear, we'll get right back to you. Easier than our regular report order form, actually!
Comes in a nice little plastic packet with black velvet bag and info on the Sun Stone, instructions for care, etc.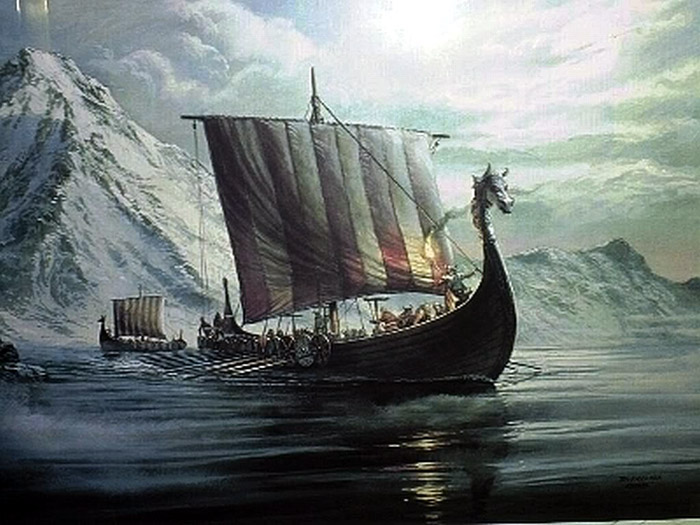 Read the complete tale of the Viking Sun Stone
...plus, some useful details for once and future Sun Stone wardens:
About your stone: This is not a masterwork of decorative jewelry (I'm not a jeweler!), but an untreated, unpolished (polishing blurs it), freshly-split refractive/reflective crystal, with minimal brass wire wrapping to keep it in place. Iceland spar is a soft stone (hardness of only 2-3), so store/wear it where it won't get nicked by other harder stones or substances, as it scratches and weathers easily. And being a water-derived cave crystal, it does wear and may even eventually dissolve if immersed in water of the right temperature and pH (though it's OK to wash it gently), its surface subject to weathering and fogging from humidity in the air, so it's a good idea to put a little clear light oil (like mineral oil, baby oil, argan oil, etc.) on it to make it shiny and clear, fill in any cracks and etching, and keep moisture away.
Properly attended, it should glisten on and seek the Sun for years to come…

About your cord: If the knots come undone (or your want to undo and retie them to change cords), it's an ancient "double fisherman's knot" (which the Vikings certainly knew) the tying and history of which is explained here . There are lots of how-to videos on it on YouTube that come and go, under varying names like "necklace cord sliding knot", "necklace slip knot", and the like. Google until you find one that seems clear to you. And it can be done in double or triple version, though the one here is a double. For an even more secure knot, try a triple, but you'll need a slightly longer cord.
Also, particularly with the leather cord, the knots may tighten too much with use and become difficult to slide. Simply rub the cord with a bar of soap and that will lubricate it perfectly, solve the problem.
-- John Townley (and Susan)
Nota bene: No sales returns...these stones pick up and retain your energies instantly, 'nuff said...!