By John Townley

A few years back (1996), a former subscriber to my Concertina and Squeezebox Magazine sent me a copy of a page from E. Annie Proulx's latest novel, Accordion Crimes. It ran like this:

"Driving down to the diner the next morning, bumping over the railroad where a track gang was taking a break, wiping their mouths with paper napkins, dropping their empty soft drink cans and paper coffee cups into the trash bucket on the flatcar, he switched on the radio - it was NPR; his wife had used the truck after supper - and heard John Townley singing "Land's End" to the accompaniment of his rare Dipper Shantyman concertina of West Indian cocobolo wood and goatskin, with handmade reeds, the ends fitted with nautical engravings of stout mermaids and cresting waves, the air button a tiny arm of polished bone which gleamed against the dark wood like the arm of a deus ex machina. The rich, oboelike tones set off Townley's voice, but in midsyllable, "and the great seas ro--," Dick shut him off. Those sea songs ended only in drowning and forsakenness."




-- Accordion Crimes, p. 368, Annie Proulx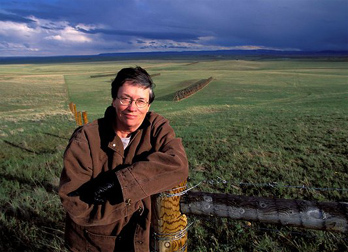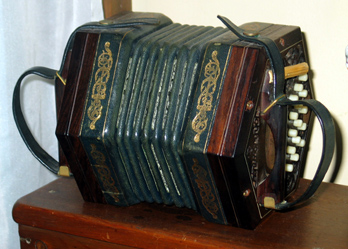 Annie Proulx (l.) described concertina she'd never seen (r., with now-missing bone arm), along with mystery song.

This was more than just an author's passing reference to an available recording she had heard. It was more like Churchill's "riddle, wrapped in a mystery, inside an enigma". That's because Annie Proulx and I had never met, and she had never seen me perform or seen my one-of-a-kind concertina, which she accurately described to the tiniest detail. But there's more…I've been heard on virtually every network except NPR, plus there is no such song anywhere in traditional or historical maritime music. Except – this song of exactly that title which I wrote and copyrighted with MCA Music Publishing in 1971, which has never been recorded, or even performed, ever, until now, seventeen years after her book was published. Composed on keyboard, it had never seen the light of day, and I didn't even have a concertina arrangement (until, of course, I read her reference, but now it does).

I corresponded with Annie when this first came to my attention, and she was duly amazed and hoped I would record it and send her a copy to see if it was what she had imagined (she swore she had heard me sing it). That was back in 1996, but other events intervened to put this all to the side.

Then, to top the strangeness, a few years later, a friend of mine at the Library of Congress checked the status of my song copyrights for me and found that out of all my several dozen songs from the early 1970s, this and only this one was renewed for its second 28-year run (under the old law) in 1999. By whom, I have no idea, as there's no record.

"Lands End" lyrics:

Stand at Land's End, there by the sea
Works of man's ends plainly you can see
Them all before you fade away,
Just as the land fades into grey.

There beside you, blown through the snow,
Cold winds chide you, slowly you may go
On still and journey out to sea,
Or turning homeward come to me.

There is no help ahead,
Storm clouds about you spread,
Why can't you turn your head and see me

Standing by you all through the land,
While you cry you're standing in my hand,
Just wipe away those tears and see,
Follow your journey's end to me.

(© copyright 1971 by John Townley, pub. By MCA Music)

Listen to it: May 2013 mp3 performance here, home-recorded on a Fostex MR-8 MkII, using the aforementioned Dipper F/C Anglo concertina, Yamaha PSR-215 keyboard, and polycarbonate Vibrato alto saxophone.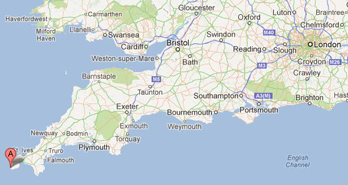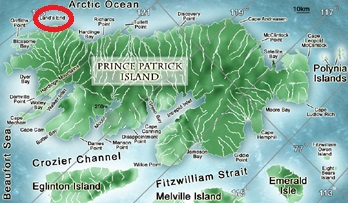 Note: There are many places around the globe called Land's End, the best known being the desolate but scenic southern tip of Cornwall, UK (above, left, marked "A"), where it actually very seldom snows. But the Land's End (76N25, 122W45) I was really writing about is on the west coast of Prince Patrick Island, Inuvik, NT, Canada, at the extreme Northwestern tip of the Northwest Passage (above, right, circled in red). The domain of polar bears and seals, from there stretches only the frozen waste of the Arctic Ocean, as in picture (below) from Prince Patrick Island of sea ice at Land's End.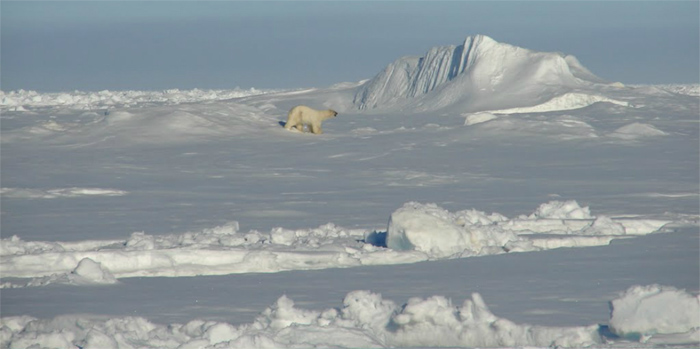 Not a newsletter subscriber already? Subscribe Free Here!
And every day, keep in touch with our
Astrology In
The News
section...please take a look!
-- Breaking news from around the globe, plus articles, reviews, it's all happening there, changes daily...